The Rossano's MAPLETON AND DIEPPE locations are OPEN for takeout, curbside pickup, and delivery through NB Eats from 11:30-7:00 Sun-Thu and 11:30-8:00 Fri-Sat. Our takeout menu is available daily – please see the takeout menu below for details!
We're also asking for help from the community to support our restaurant, staff and suppliers during this unprecedented time. The purchase of gift cards for future-use and ordering takeout are a huge help to us!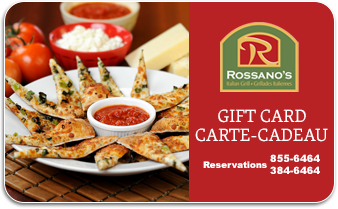 Call (506) 855-6464 for MAPLETON ROAD and (506) 384-6464 for CHAMPLAIN STREET Curbside pickup is available!
Order frozen take-and-bake items to cook at home! Pizzas for $20 and lasagna for $12!
Purchase gift cards by phone or by email to use later.
e-transfer the amount you would like to put on your gift card to gregg@rossanos.ca – we will work with you to arrange pickup!
ROSSANO'S GRILL
small or regular, served with fresh house veggies and a choice of side
Chicken Rossano
Fire-grilled boneless breast of chicken topped with roasted veggies (red/green/yellow peppers, mushrooms, Spanish onion and zucchini) and a light house sauce, topped with crumbled goat cheese.   16.95 | 22.95
Cranberry Mango Chicken
Fire grilled breast of chicken topped with our light and creamy cranberry mango sauce served with fresh veggies and a choice of side.   16.95 | 22.95
Chicken Classico
Fire grilled boneless breast of chicken topped with your choice of our light tomato sauce and grated asiago cheese or our lightly seasoned chicken sauce.   16.95 | 22.95
Chicken Broccoli Penne With Roasted Red Pepper
Alfredo sauce, garlic, grilled chicken, fresh broccoli and roasted red pepper.   16.50 | 21.95
Roasted Veggie Primavera
Garlic and parsley linguini , marinara sauce, roasted veggies, diced fresh roma tomato and fresh basil.   14.50 | 18.50
Lasagne Rossano
Layers of pasta, meat sauce, mozzarella, ricotta.   16.95
Spaghetti & Meatballs
Spaghetti with meat sauce and our hand rolled meatballs.   15.50 | 20.95
Chicken or Scallop Fettuccini Carbonara
Black pepper fettuccine, bacon and choice of fire grilled chicken or sautéed scallops topped with green onion in alfredo sauce.   16.95 | 22.95
Salmon Linguine
Garlic and parsley linguini, seafood alfredo sauce, roasted mushrooms and red peppers, chopped green onion, topped with maple pepper baked salmon.   16.95 | 22.95
Five Meat Penne
Penne with our pasta red sauce, garlic, capicola, sausage, bacon, pepperoni, meatballs, spanish onions and roasted mushrooms.   16.95 | 22.95
Shrimp and Scallop Rosé
Sautéed scallop, shrimp, with sundried tomato and sweet peppers in a rosé sauce with linguini.   16.95 | 22.95
Seafood Linguine
Sautéed scallop, shrimp, lobster and maple pepper salmon with roasted mushrooms, onions and sweet peppers – tossed with our garlic and parsley linguini.   18.50 | 25.95
PIZZA
on our honey wheat dough 9″ – 16.50  |  12″ – 24.95  |  15″ – 29.95
The Classic
Pepperoni, mushrooms & green pepper, topped with Mozza cheese
The Works
Pepperoni, mushrooms, onions & green pepper, sausage, bacon and mozza cheese
Roasted Veggie
Roasted red/green/yellow peppers, mushrooms, spanish onion and zucchini, roma tomato, topped with our seasoned feta and mozza cheeses
The Five Meat
Pepperoni, sausage, capicola, bacon, and meatballs topped with spanish onion and mozza cheese
The BBQ Chicken
Sweet BBQ sauce, fire grill chicken, mushrooms, onion, bacon, and cheddar / mozza blend of cheese
BBQ Chicken Nachos
Our favourite Nacho dish, topped with our BBQ sauce, cheese, fire grilled chicken, bacon, green pepper, Spanish onion, tomato, green onion and sour cream.   22.95
Maple Pepper Salmon
Two oven baked fillets seasoned with a unique maple pepper and served with our seafood aioli.   19.95
Chicken Fingers
Four crispy chicken fingers served with choice of sauce and French fries or your choice of side.   15.95
Chicken Stir-Fry
Our lightly roasted veggies sautéed with carrot, baby corn, and fire grilled chicken in Oishi or teriyaki sauce. Topped with a sprinkle of sesame seeds served with rice.   18.95
Haddock Grilled
Haddock Grilled Two haddock fillets with a lemon herb seasoning.   18.95
Haddock Fish & Chips
Three golden brown haddock fillets served with French Fries.   16.95
Hot Chicken Sandwich
The classic open faced hot sandwich served with a mildly seasoned chicken sauce and French Fries.   15.95